Full Arch Immediate Loading - Surgical & Restorative Course with Live Surgery
Full Arch Immediate Loading - Surgical & Restorative Course with Live Surgery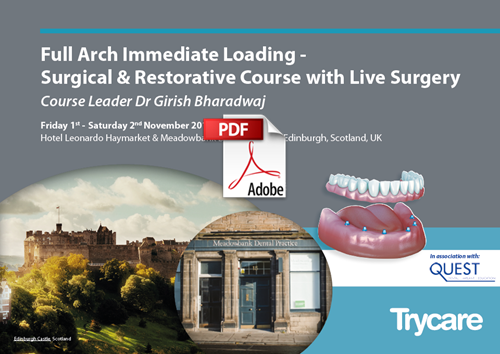 All Dental Events- Surgical Events
Dates: Fri 1st & Sat 2nd November 2019
Venue: Hotel Leonardo Haymarket & Meadowbank Dental Practice, Edinburgh
Presented by: Dr Girish Bharadwaj
Enhanced CPD: 14 hours
Cost: Dentist £995 incl vat, accompanying nurse £195 incl vat. The course fee includes tuition for two days, lunch and refreshments for two days, and delegates' dinner on the Friday night
Course leaflet: Click here
To book: Call Denise on 01274 88 55 40, or email denise.law@trycare.co.uk
Course Schedule
Day 1 - Lecture-based - Hotel Leonardo Haymarket
Introduction, assessment, treatment planning, surgical anatomy.
Treatment planning continued - Restorative and business aspects.
Surgical technique and treatment protocols. Use of intraoral and CBCT scanners and a digital workflow - pros and cons.
Occlusal concepts and planning a full arch restoration.
Day 2 - Live surgery: full arch reconstruction with immediate fixed prosthesis - Meadowbank Dental Practice
Full arch surgical phase.
Dentist - Construction of provisional prosthesis and fit (observation).
Nurse - Being an active member of the team to drive success.
Maintenance protocols, managing complications, how to stay safe and work within skill levels and options for mentoring.
Course Outline
If you are already placing dental implants to restore single and multiple units and wonder how to go to the next level of full arch replacement then this course is for you. Managing full arch replacement is a challenge be it overdenture or a screw retained hybrid. This requires good planning, managing patient expectations and good maintenance protocols. Selection of cases to manage within your skill set is critical.
Information about other options of managing full arch treatment with delayed protocols will be discussed with their pros and cons. Learn to plan, place and restore immediately a full arch replacement.
Objectives:
Learn about the surgical anatomy and evidence base for surgical and prosthetic planning
Digital workflow using intraoral and CBCT scanners
Managing patient consent
Surgical steps, criteria for immediate loading, wound management and closure
Steps in construction of an immediate loaded fixed prosthesis
Complications and how to stay safe
When is immediate loading not feasible
Financial aspects of providing a niche service and team approach in delivering this life changing experience
Considerations in delivering the final hybrid prosthesis
Orientation programme for nurses
Technician will provide insight to designing and finishing the provisional prosthesis
Outcomes:
At the end of the course candidates are expected to have sufficient knowledge to plan and place implants and deliver an immediate fixed prosthesis depending on their level of experience and team support, with or without mentoring.