Laser Course 21st April 2018
Laser Course 21st April 2018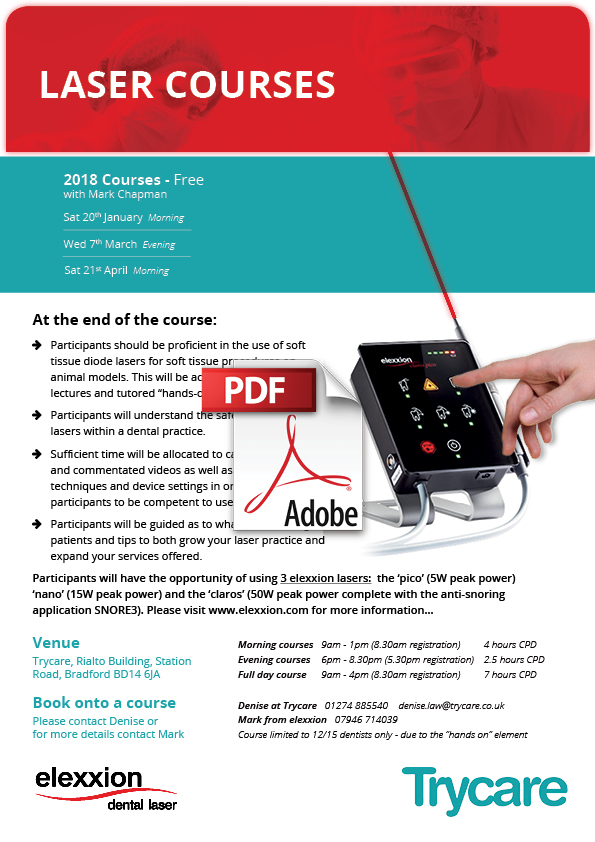 Date & Time: Saturday 21st April from 9am
Venue: Trycare Limited, Station Road, Clayton, Bradford, West Yorkshire, BD14 6JA
Speaker: Mark Chapman
Cost: FREE
Book: Please call Denise on 01274 885540, or email denise.law@trycare.co.uk
CPD: Includes 3 hours verifiable CPD points
PLEASE NOTE: Due to the "hands on" element of the course, it is limited to just 15 dentists on a first come first served basis!
COURSE OBJECTIVES
At the end of the course, participants should be proficient in the use of soft tissue diode lasers for soft tissue procedures on animal models. This will be achieved through both lectures and tutored "hands-on" training.
Participants will understand the safe use of soft tissue lasers within a dental practice.
Sufficient time will be allocated to case presentations and commentated videos as well as laser handpiece techniques and device settings in order for the participants to be competent to use a soft tissue laser.
Participants will be guided as to what fees to charge patients and tips to both grow your laser practice and expand your services offered.
Participants will have the opportunity of using 3 elexxion lasers: pico (5W peak power) nano (15W peak power) and the claros (50W peak power complete with the anti-snoring application SNORE3).
For further information, please visit www.elexxion.com