London Fellowship in Laser Dentistry Course
London Fellowship in Laser Dentistry Course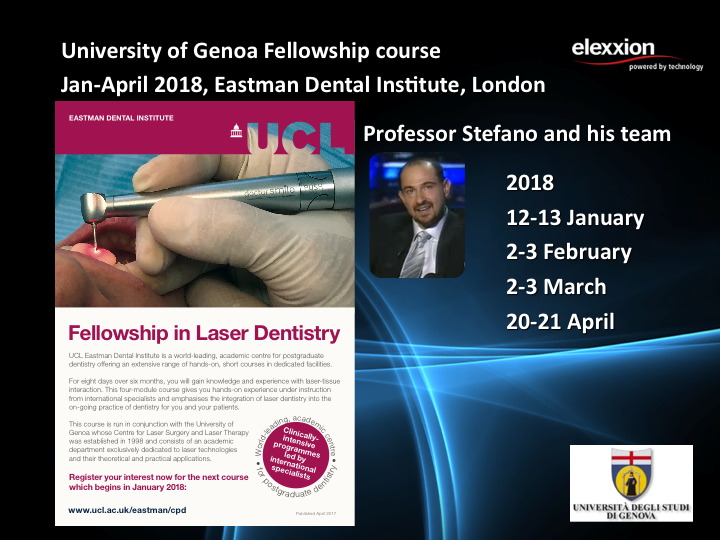 Dates: January 2018 - April 2018
Presented by: Professor Stefano and his team
Venue: Eastman Dental Institute, London
Cost: £3,995
Overview
This eight-day CPD course is designed for clinical dental professionals who want to gain a sound knowledge of, and experience with, laser-tissue interaction.
You'll learn to use laser therapy to benefit your patients' experiences and outcomes.
The course aims to provide evidence-based core knowledge in laser use in dentistry as well as refining your practical skills.
Emphasis is placed on integrating this course into the ongoing practice of dentistry for you and your patients.
It runs over a period of four months and consists of four two-day modules.
You'll earn 52 hours of verifiable CPD (continuing professional development).
The course is run at the UCL Eastman Dental Institute in London in collaboration with the University of Genoa.
Course content
The four modules cover the following areas.
Module 1
Laser photonic energy
Historical aspects of laser development
Relationship of laser emission to 'ordinary' light
Production of laser photonic energy by solid-state, gas and semi-conductor-based laser machines
Emission modes
Laser wavelengths in dentistry: an overview of their applications and laser-tissue interaction
Clinical case design
Laser safety and operating parameters
Photobiomodulation (low level laser therapy): understanding the mechanism
Low-level laser therapy applications in dentistry
Photobiomodulation in the management of neuropathic pain
Module 2
Laser use in hard-tissue management
Optimal laser wavelengths and power parameters relative to absorption phenomena in oral hard tissue
Laser interaction with dental caries, enamel, dentine, cementum
Laser interaction with alveolar bone
Laser in aesthetic dentistry
Laser-assisted restorative therapy
Practical session: laser-hard tissue interaction
Module 3
Laser use in oral soft-tissue management
Laser wavelengths and consideration of optimal power parameters relative to absorption phenomena in oral soft tissue
Laser use in the management of non-keratinised or 'loose' soft tissue structures - lining mucosa, frenula, ventral tongue
Laser use in the management of keratinised or 'fixed' soft tissue - gingiva, dorsal tongue
Laser in implantology and role of laser-assisted therapy in the management of peri-implantitis
Laser use in periodontology: an overview of surgical and non-surgical applications
Applications of photodynamic therapy in dentistry
Practical session: laser soft-issue hands-on
Module 4
Laser use in endodontics - orthograde and retrograde applications
The scope of laser applications in oral pathology
How to assess the quality of a research study
Laser applications in oral surgery: an overview
Laser applications in endodontic surgery
Integration of lasers into dental practice - clinical and marketing aspects
Clinical cases presentations for laser users (participants' cases)
Multiple-choice examination and closing ceremony