Which dental implant is best - Adin, Nobel Biocare, Straumann or Astra?
Which dental implant is best - Adin, Nobel Biocare, Straumann or Astra?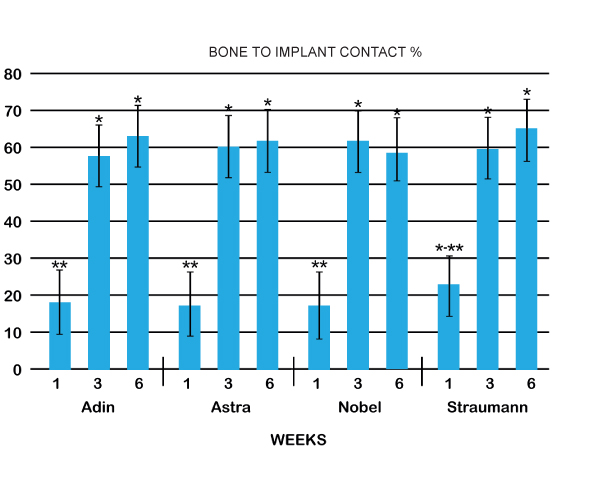 Results of an independent, comparative study was published by New York University and this research indicates that Adin Implants integrate as well as NobelActive® by Nobel Biocare®, Straumann® SLActive® and Astra® OsseoSpeed™. See the chart opposite and read the study.
Adin implants are the next-generation of bone-level implants and one of the highest performing implants in the world. Adin has been established for two decades and is the world's tenth largest manufacturer of dental implants. With 30,000 implants placed each month, it has been predicted that Adin will soon be in the top four.
Adin implants have exceptional primary stability and orientation. They are suitable for all indications and exceptional for immediate loading.
Their unique thread and tip slices through bone compressing and condensing on the way, offering outstanding primary stability and allowing optimal restorative orientation. Their surfaces have also been treated for faster osseointegration.

Adin implants are also a favourite with many of the FGDP implant course tutors at The Royal College of Surgeons and some consider they are superior to all the other implant systems they have used.
So, the choice is simple. You can continue to use NobelActive by Nobel Biocare, Straumann SLActive and Astra OsseoSpeed or start using this impressive implant with proven quality and performance, but at a fraction of the cost!
Download the price list, studies or watch the video to see for yourself, or start saving money today by trying Adin Implants - call 01274 885544.