Footcare Hamper For The Homeless >
Footcare Hamper For The Homeless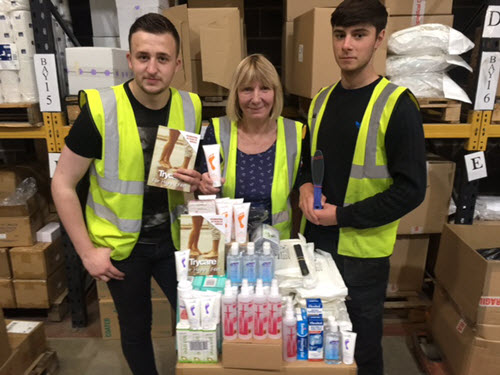 A Summer hamper of footcare goodies is on its way to Wendy Hilliard in Aylesbury to support her efforts in treating the feet of the homeless
Wendy, a professional podiatrist, is also a volunteer at The Vineyard Centre, Aylesbury which is part of a wider network across the UK and the world. Wendy gives up her time and expertise helping people who wouldn't normally access NHS support and certainly not the private treatment she provides to others.
"It's essential we don't lose sight that we are a people-focused business"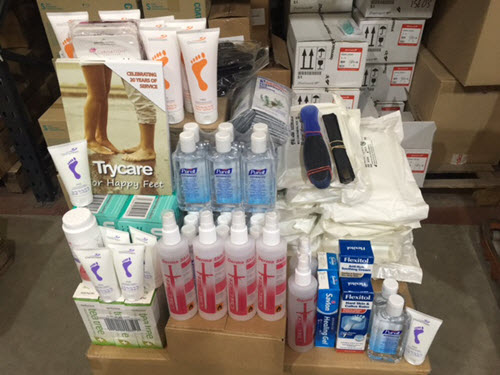 Trycare's Joanne Hurrell discovered Wendy's fantastic work via Facebook as part of her everyday chiropody marketing activities. Joanne immediately contacted Irene Williams, the Chiropody Department Manager, and suggested that Trycare help.
Mark Linley, Managing Director of Trycare Ltd was approached by Joanne and it was decided that a package of goods would be put together to donate to Wendy. Mark says, "As a growing business, it's easy to only concentrate on the busy day to day activities of expansion, but as we grow, it's essential we don't lose sight that we are a people-focused business and that we need to keep a strong connection with the people in the sector and the local communities they serve. The company has a big heart too and it's one of the things that separates us from others, so supporting initiatives like this is absolutely what we must continue to do. I'd like to extend our thanks to Wendy and all the work she does with the homeless and that Trycare is thrilled to be able to help out".
The footcare hamper is valued at over £500 and was sent on its way from the Trycare warehouse by Byron Yates, Lynne Walsh and Luke Rutterford (pictured).