Kerator - Your Best Choice In Overdenture
Kerator - Your Best Choice In Overdenture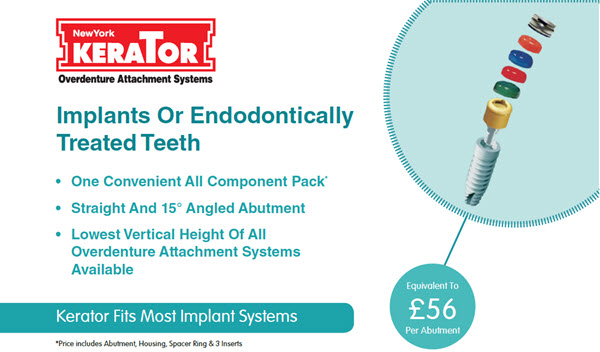 The Kerator Overdenture system is a popular choice amongst clinicians as it provides improved system componentry at the point of ordering and can be placed clinically across both implant abutments & components and also into roots of endodontically treated teeth.
Kerator abutments are compatible with all implant systems* including Adin, Nobel Biocare, Starumann, 3I, Astra, Straumann, Ankylos, Biohorizon, Biolok, Bicon, Camlog, Endopore, Frialit-2 & Xive, Lifecore, Zimmer (Calcitek, Paragon, Swissplus), Uniti, Pitt-Easy, Osstem, Dentium, Dio, Dentis, Megagen, Cowell Medi, Warantec and many more.
If your implant system is not listed or you are unsure which abutment you need, please visit our Kerator abutment website and choose the relevant implant manufacturer. After selecting the implant type, the correct abutment will then be shown to you. Should your implant system not be listed, please call us on 01274 885544.
Kerator components and instruments are also available individually.
For Root Retained Overdentures, there are two types:
The Post type is used in direct technique and these are available as straight, 10 degree and 20-degree angled females. The female part is made of titanium alloy and is coated with titanium nitride.
The Cast type has a pattern that is incorporated into wax pattern for post coping.
The Kerator Root Kit includes 4 attachments (male & female), 3 kinds of burs, initial drill, main pilot drill, countersink diamond bur.
Trycare is committed to bringing customers the best possible solutions clinically across many treatment pathways, whilst making sure the best value for money solution is presented to you. We believe that the Kerator solutions, encompass this philosophy.
The Key benefits are:
1. Plastic carrier for the abutment makes it easier, safer to handle and check alignment in the mouth
2. The lowest vertical height production globally
3. Dual Retention (Outside and inside retention ensures the longest lasting performance) Easy Insertion (Accurate alignment using self-locating design)
4. Resilient Kerator attachment with superior mobility
5. 15° Angled abutment can be used with non-parallel implants. Combined with the extended range male, it can correct up to 40 degrees.
6. A cross section of the Kerator metal housing shows the retentive property; Increasing coherence with denture resin.
To see how Kerator can benefit your practice, please visit www.trycare.co.uk/kerator or call us on 01274 885544 and request a visit from your local Trycare Area Sales Manager.