Two Major Breakthroughs In Composite Technology
Two Major Breakthroughs In Composite Technology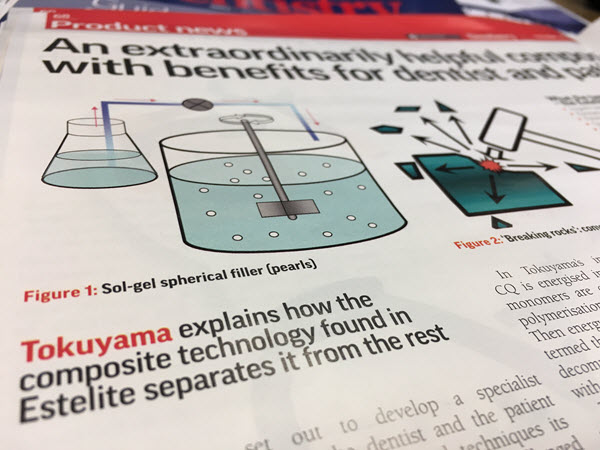 It's not by chance that Estelite SQ has been voted 'Best Universal Composite' by the Dental Advisor magazine for the past 9 years. Two technological breakthroughs make it so very different to other composites and give so many benefits!
Breakthrough 1
Tokuyama Is Made With "Aesthetic Pearl Fillers" Where Others Are Made With "Broken Rocks"!
Supra-nano Spherical Filler is produced using the Sol-Gel method. This allows Tokuyama to grow spheres of specific translucency, colour, size and refractive index for optimal optical and physical performance.
Other composites are made from blocks of filler that are randomly ground thereby compromising the product.
Breakthrough 2
RAP Accelerated Curing gives Extended Working Time with 10 second light cure!
In conventional light curing, Camphorquinone (CQ) catalyst generates one energised Monomer each reactive cycle. Tokuyama's innovative initiator system energizes several Monomer molecules each reactive cycle. The benefit is that less CQ gives a longer working time and the ability to energise lots of Monomer with a short cure time.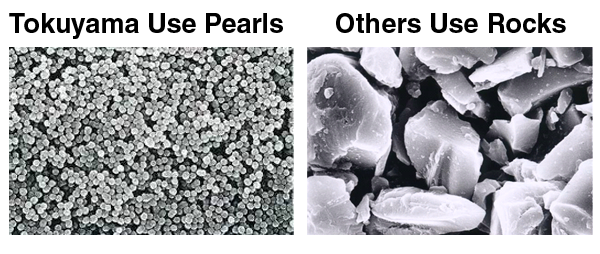 Benefits:
Extended Working Time – At Least 90 Seconds
Quick Curing Time – Just 10 Seconds
Superb, Fast, Long Lasting Polish
Exceptional Handling
Superior Blend & Shade Matching
Minimal Shrinkage after Light Curing (1.3% Linear)
The Estelite range:
Try Estelite for yourself.
Call 01274 885544 for a risk free trial experience, or visit the Estelite page of our website.