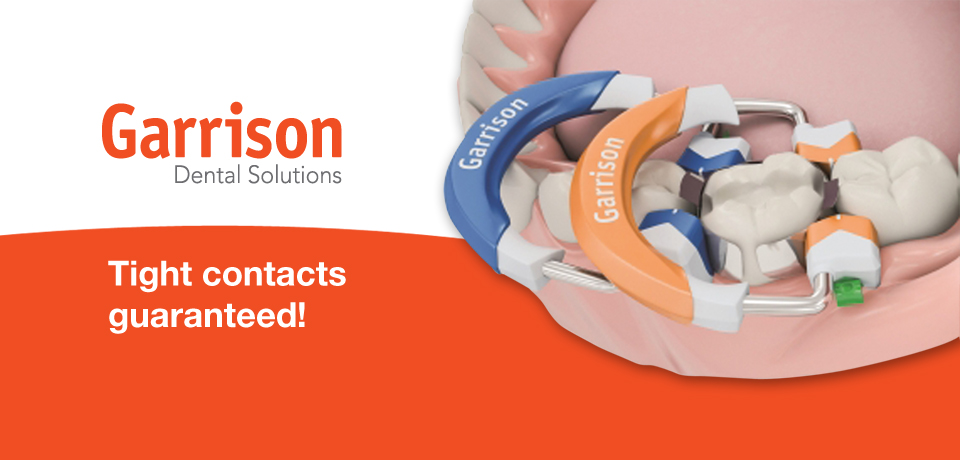 Garrison Sectional Matrix System
Top Sectional Matrix in Dental Advisor for 2019!
Composi-Tight 3D Fusion™ is a next-generation sectional matrix designed to enable the creation of tight contacts in posterior composite restorations. The strong rings improve retention and fit to the tooth, with retention extensions anchoring the ring to prevent slippage and silicone tips that minimize and prevent flash.
The full curve 3D Fusion matrices are naturally contoured to help achieve anotomically correct contacts and emergance profiles on Class II restorations. The colour coded non-stick surface ensures correct matrix selection and easy removal.
Composi-Tight 3D Fusion kit includes a short, tall and wide prep ring, 80 full curve matrices, 70 wedges and one pair of forceps.
3D Fusion wedges have Soft-Face™ technology: a rubberized material is fused to the firm plastic core so that the wedge gently moulds itself to root irregularities as you insert it providing an unsurpassed seal. The retentive fins fold in to allow easy placement of the wedge, but spring back out to help prevent it backing out of the embrasure. These ultra-adaptive wedges will help you produce your best, most predictable restorations ever.
How To Use The Composi-Tight 3D Fusion System