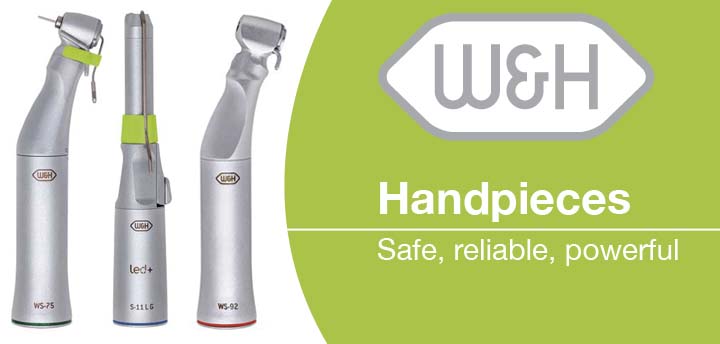 W&H Straight & Contra-Angle Handpieces
Whether inserting an implant or extracting a wisdom tooth, be sure of optimum cooling and illumination of the treatment site.
These top quality, durable straight and contra-angle surgical handpieces, made from high quality stainless steel, offer improved ergonomic grip and special scratch-resistant surface coating making them reliable, robust and exceptionally comfortable to use.
W&H surgical handpieces have been specially designed for oral and maxillofacial surgery and implantology.
W&H Surgical handpieces can be taken apart easily without tools. All parts can be cleaned thoroughly after use. Being thermo washer disinfectable as well as sterilisable, with data matrix code for traceability, they are also ideal for your compliance with best practice standards under the HTM 01-05 decontamination guidelines. For fast, efficient cleaning and oiling, consider the W&H Assistina TWIN maintenance unit!
All handpieces come with full warranties as you would expect, but should you need them repairing beyond this period, we an an excellent repair service to offer you - whatever make & model of handpiece you have:
WE USE ONLY THE HIGHEST QUALITY COMPONENTS FOR ALL OUR REPAIRS
24HR TURNAROUND FROM THE TIME OF RECEIPT
PRICE PROMISE GUARANTEE