Adin Dental Implant Solutions - Rock Solid Stability
Adin Dental Implant Solutions are the next-generation of bone-level implants and one of the highest performing implants available in the world. Adin has been established for two decades and is the world's tenth-largest manufacturer of dental implants. With over 30,000 implants placed each month, it is predicted that Adin will soon be in the top four.
The implant's unique, double-lead thread and tip slices through bone compressing and condensing as it self-taps. This offers outstanding primary stability, allowing optimal restorative orientation and surfaces are treated for faster osseointegration. Adin is also a favourite with many of the FGDP implant course tutors at The Royal College of Surgeons as well as professionals worldwide. Click for the full range of Adin products.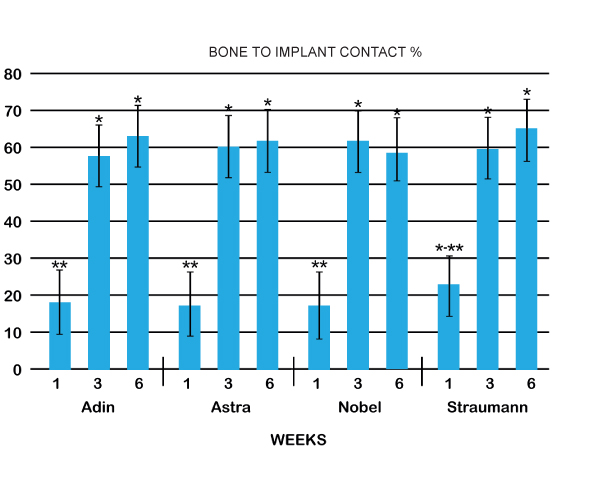 This chart show the results of a multinational, independent, comparative study was published by New York University and this research indicates that Adin Implants integrate as well as Nobel, Straumann and Astra.
Compelling Reasons to use Adin:
Outstanding Primary Stability and Easily Repositioned with No loss of Stability
The implant can easily be backed out then driven in a different direction once more gathering and condensing bone around itself for immediate stability.
Quick and Easy to Place
Our double thread has twice the pitch of a conventional implant needing only 5 or 6 full turns to insert. New users consistently remark on the speed and ease of placement.
Self Drilling and Tapping
It has two large variable depth threads and a tapered design for accurate implant placement, self drilling, improved aesthetics and better load distribution.
Minimal Site Preparation
A useful user tip is to minimise the osteotomy once through cortical bone. The self tapping drilling feature makes insertion easy leaving more bone to compress around the implant.
The Strongest 3mm Implant Available
For narrow spaces Adin offer 2.7 and 3.0mm diameter implants. Independent analysis showed the connection between implant and abutment surviving at least five million cycles of a very high fatigue strength test