DENTAL NEWS - Peter Fairbairn agrees with OsteoBiol® by Tecnoss!
DENTAL NEWS - Peter Fairbairn agrees with OsteoBiol® by Tecnoss!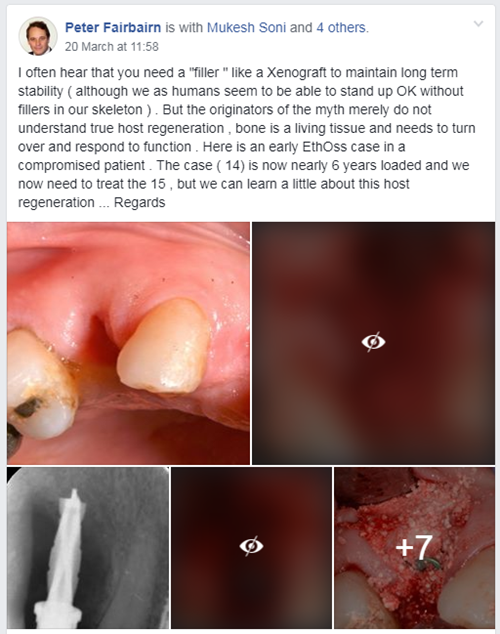 In a recent Facebook posting, on 20th March 2019, Peter Fairbairn wrote that "I often hear that you need a like a Xenograft to maintain long term stability (although humans seem to be able to stand up OK without fillers in our skeleton). But the originators of the myth merely do not understand true host regeneration, bone is living tissue and needs to turnover and respond to function."
The type of "filler" he was referring to is non-resorbable and derived from high-temperature processing of bone, usually bovine, that burns away the protein but leaves the remaining bone mineral so hard that it cannot be resorbed. Bio-oss from Geistlich is a typical example.
OsteoBiol® from Tecnoss, is produced using a patented process that removes all the potentially dangerous allergenic components from the animal bone (pig or horse) but preserves both the collagen and resorbable bone mineral in a useable format. Moreover, they remain naturally intertwined.
This outstanding material, that literally expands as it absorbs blood to provide extra volume, produces remarkable results. This is because it contains a biocompatible "magic matrix" that human bodies can deal with in a naturally harmonious way.
Timing is critical and OsteoBiol® grafts are synchronised and in harmony with nature! In the short term they provide a filler (scaffold) on which new bone is formed and encouraged, but after stabilisation are steadily resorbed transitioning to healthy patient's own bone in a finite period of time, typically 18 to 24 months for 100% conversion.
Bone grafting at its best works in harmony with nature's clock. Not too fast, as is sometimes associated with synthetic materials when volume and even the whole graft can disappear, and not too slow, when unresorbable "filler debris" remains indefinitely and could be considered to be detrimental to long term post-surgical blood supply and hence the heath of the bone around the implant.
Peter Fairbairn is a practising dentist, an opinion leader and I believe financially involved with Ethoss. As the owner of Trycare I also have a vested interest. I am not a Dentist, but I have with me a huge army of successful users including - Tiziano Testori, Roberto Rossi and Patrick Palacci and researchers, such as Ulf Nannmark and the Bone, Biomaterials and Beyond Academy.
Over 172 papers from reputable sources have been published on OsteoBiol® materials. The University of Marseilles published one clearly showing OsteoBiol® endothelial cell proliferation in comparison to bovine high temperature bone. All this information is available on request.
Written by Phil Mathers, CEO and Owner of Trycare Ltd.
For more information about the complete OsteoBiol® range contact your local Trycare Representative, call 01274 885544 or visit www.trycare.co.uk/osteobiol