Dentsply implants and Adin implants achieve similar results, dental study reveals says Trycare, UK
Dentsply Astra implants and Adin implants achieve similar results, dental study reveals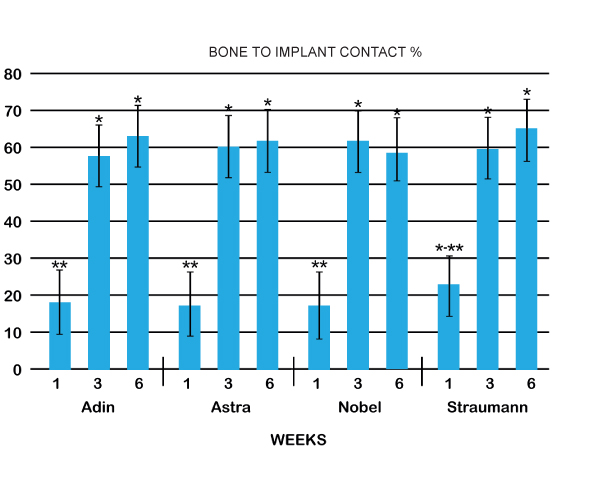 Results of an independent, comparative study published by New York University indicates that Adin implants integrate as well as Dentsply Astra implants and other leading brands.
The chart opposite shows the increasing bone to implant contact after 1 week, 3 weeks and 6 weeks with Adin implants having similar results to Dentsply Astra ®, Straumann ® and Nobel ®.
Dentsply implants are good quality, but the study indicates that Adin implants perform just as well. The big difference between the two implants however is price!
With so many variables influencing the outcome of placing implants like bone quality, clinical skill, etc, financial savings are being made by clinicians by switching to Adin implants, without any loss of implant quality!
Why Adin?
Adin implants are the next-generation of bone-level implants and one of the highest performing implants in the world. Adin has been established for more than 20 years and over 40,000 implants have been placed in the UK to date, with no adverse defects! It is the world's tenth largest manufacturer of dental implants and predicted to soon become one of the top four.
It's unique thread and tip slices through bone compressing and condensing on the way, offering outstanding primary stability and allowing optimal restorative orientation. The surfaces have also been treated for faster osseointegration and they are suitable for all indications and exceptional for immediate loading. Adin implants are also a favourite with many of the FGDP implant course tutors at The Royal College of Surgeons and some consider they are superior to all the other implant systems they have used.
However, they also provide much better value than Dentsply Astra implants.
Want to know more?
Download the price list, studies and watch the Adin video by visiting the Adin Implants page or call us on 01274 885544. One of our implant specialists can also visit you to run through the efficacy reports and any potential financial savings to be made.