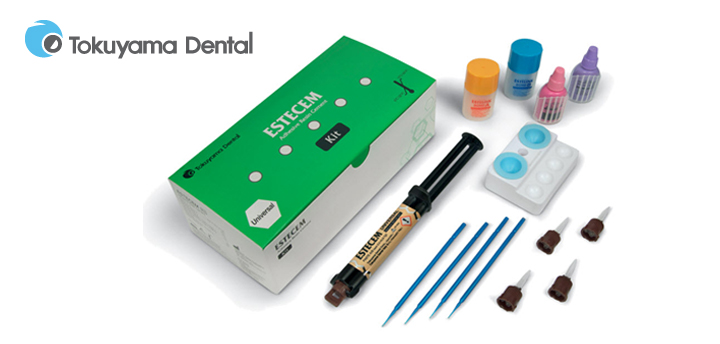 Tokuyama Estecem Dental Cement
Tokuyama Estecem - One Cement For All Restorations!
Thanks to its universal application options, ESTECEM is a convincing dental adhesive luting cement.
ESTECEM is suitable for adhesive retention and for repairs and dependable adhesive strength is achieved with extremely easy usage.
High-precision work is also facilitated by an exceptionally thin layer of 10µm. Use alone or with Tokuyama Universal Primer.
ESTECEM offers a suitable shade for every type of application from Clear to Universal (A3) and Brown (A5) through to White-Opaque - an aesthetic outcome is guaranteed for every application area.
The direct application from the automix syringe and removal of excess material could not be easier.
Compare The Ease Of Use & Strength of Estecem!
Indications
Cementation of dental crowns, bridges, inlays, and onlays made of glass/oxide ceramics (porcelain, zirconia and alumina), metals/alloys (precious and non-precious) and resin materials including inorganic filler (composite materials).
Repair of fractured porcelain fused to metal crowns and all ceramic restorations.
Cementation of dental veneers.
Cementation of adhesion bridges.
Cementation of metal or resin cores, metal or glass-fiber posts.
Properties
Reliable bond strength to tooth structure and prothesis.
Excellent physical properties and high wear resistance.
Low water absorbtion and low solubility.
Thin film thickness.
Outstanding aesthetics and colour stability.
Good radiopacity.
Simple handling and easy removal of excess material.